고객문의의견
CEO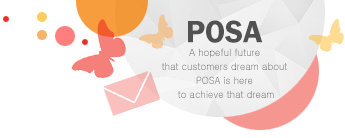 Dear All,
I would like to extend my sincere gratitude to everyone for their unwavering support and care for the Korea Postal Service Agency (POSA).
Founded in 1930, the POSA is a state-run organization that is committed to contributing to the advancement of the Korean people's cultural activities and postal culture by promoting the culture of the postal service and achieving its qualitative growth.
POSA's main areas of business include ePOST Mall, an online shopping mall aiming to vitalize regional economies, Customer Service Center, a bridge of communication connecting the post offices with the customers, and cultural activities by Korea Post for expanding the postal culture and manufacturing the postal products.
We are fully committed to creating value for the people and the postal service of Korea.
Moreover, we implement responsibility management for internal
stability by seeking efficiency in management at every level
and expanding the range of information disclosure on
a progressive level, while making concerted efforts and supporting
a creative economy by improving the retail structure and bringing
vibrancy back to micro-enterprise owners.
Everyone at POSA stays open-minded in seeking value innovation
in the postal culture and providing an advanced postal service. In doing so,
we undertake the win-win growth in line with what customers desire
and dutifully fulfill our social responsibility for sustainable growth
of companies. In the meantime, we promise to deliver consumer-centric
management by always making the customers our No. 1 priority.
POSA appreciates your continued interest and support.
Thank you.
CEO Profile
Lim, Jeongsoo
General Manager of SEOUL Gang-Nam Post Office(16.7~16.12)
General Manager of SEOUL Gang-Seo Post Office(15.10~16.6)
Section Head of Bureau of Posts in KOREA POST(13.8~15.9)
Section Head of Postal Savings Business Division in KOREA POST(11.1~13.8)
Team Leader of Postal Savings in KOREA POST(10.2~10.12)
Manager of Management and Planing in KOREA POST(07.1~10.2)
Ministry of Information and Communication(96.7~06.12)